Submitted by

liem

on Wed, 09/11/2013 - 21:17
I found this article in the November 25, 1969 issue of the Milwaukee Journal. Imagine if this continued to be the official policy of NASA? It's evident that, by the large number of reproductions from that era, the policy was changed. By the same token, it could also explain the rarity of Apollo 11 and 12 crew-worn patches and contractor (Grumman) issues.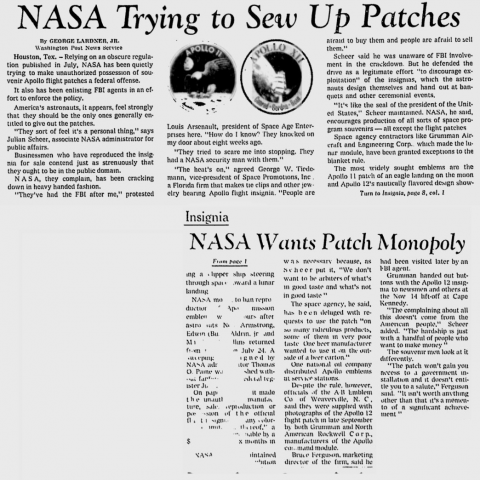 Does that mean a patch like this Apollo 11 patch from Universal Commemorative was "contraband"? It is postmarked October 1969: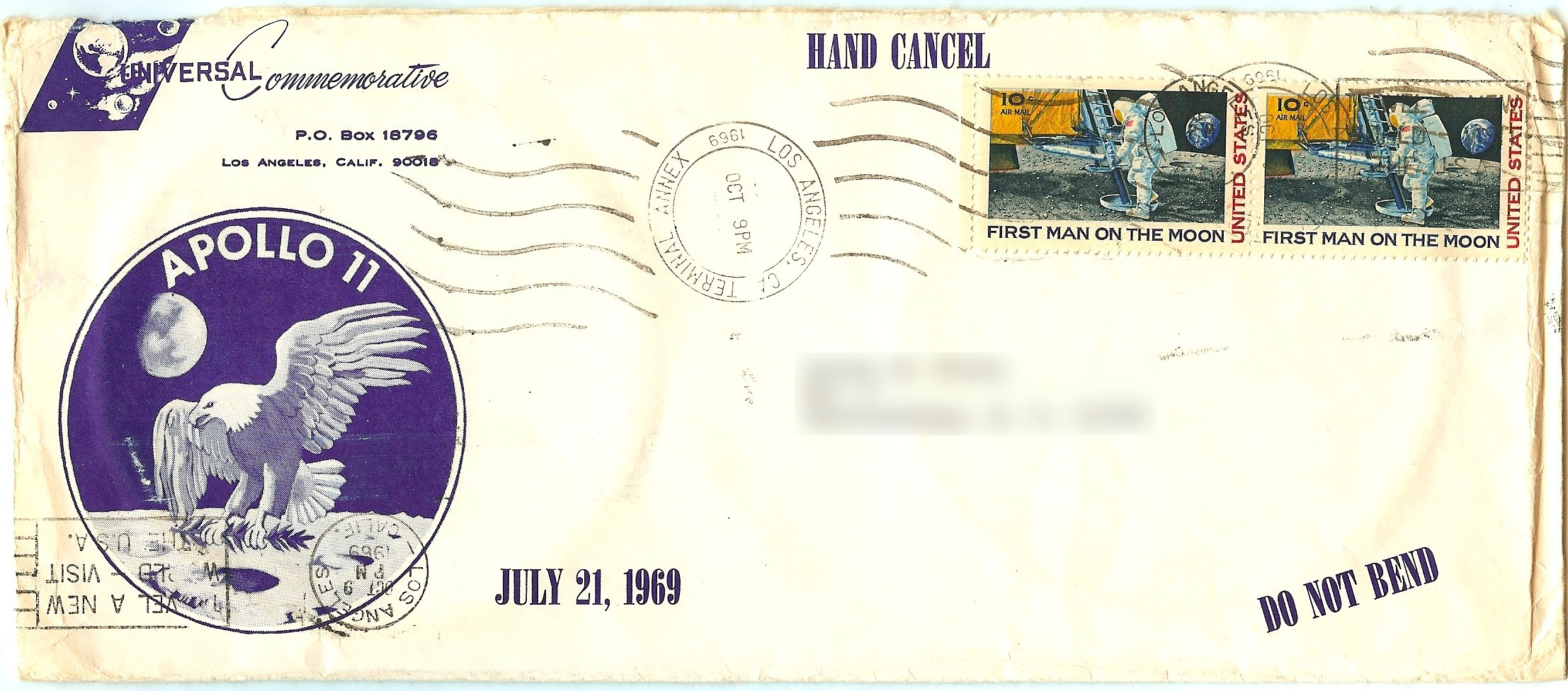 Original article text by George Lardner, Jr. of the Washington Post: 
NASA Trying To Halt Possession Of Unauthorized Apollo Patches By GEORGE LARDNER JR. 
The Washington Pott HOUSTON - Relying on an obscure regulation published last July, the Space Agency has been quietly trying to make "unauthorized" possession of souvenir Apollo flight patches a federal offense. It has also been enlisting FBI agents in an effort to make it stick. America's astronauts, it appears, feel strongly that they should be the only ones generally entitled to give the patches out. "They sort of feel it's a personal thing," says Julian Scheer, associate NASA administrator for public affairs. Businessmen who have undertaken to reproduce the insignias for sale contend just as strenuously that they ought to be in the public domain. NASA, they complain, has been cracking down in heavy-handed fashion. Meanwhile, Space Agency contractors like Grumman Aircraft had them out as souvenirs and mementoes. "This is the sole exception to that." The most widely sought emblems involved are the Apollo 11 patch of an eagle landing on the moon and Apollo 12's nautically flavored design showing a clipper ship steering through space toward a lunar landing. NASA moved to ban reproduction of these and earlier Apollo mission emblems within hours after astronauts Neil Armstrong, Buzz Aldrin and Michael Collins returned from the moon last July 24. The first manned moon-shot had already touched off a hot market for space program souvenirs. The Space Agency responded with a sweeping rule signed by NASA administrator Thomas 0. Paine and published without fanfare in the Federal Register last July 26. On paper at least, it made the unauthorized manufacture, sale, reproduction, or possession of the official flight insignia, "or any colorable imitation thereof," a misdemeanor punishable by $250 fine and six montlls in prison. Meanwhile, space agency contractors like Grumman Aircraft and Engineering Corp., which made the lunar module, have been granted exceptions to the blanke rule.

"They've had the FBI after me," protested Louis Arsenault, president of Space Age Enterprises here. "How do I know? They knocked on my door about eight weeks ago. "They tried to scare me into stopping. They had a NASA security man with them." "The heat's on," agreed George W. Tiedemann. Vice President of Space Promotions Inc., a Florida firm that makes tie clips and other jewelry bearing Apollo flight insignia. "People are afraid to buy them and people are afraid to sell them." Scheer said he was unaware of FBI involvement in the crackdown. But he defended the drive as a legitimate effort "to discourage exploitation" of the insignias, which the astronauts design themselves and hand out at banquets and other ceremonial events. "It's like the seal of the President of the United States," Scheer maintained. NASA, he said, encourages production of all sorts of space program souvenirs and mementos. "This is the sole exception to that."

NASA officials maintained the blanket rule prohibition blanket rule was necessary because, as Scheer put it, "we don't want to be arbiters of what's in good taste and what's not in good taste." But the Space Agency, he said, had been deluged with request for use of the patch "on so many ridiculous products, some of them in very poor taste. One beer manufacturer wanted to use it on the outside of a beer carlon. Despite the general rule, however, officials of the A-B Emblem Co. of Weaverville, N.C., said they were supplied w photographs of the official Apollo 12 flight patch in late September by both Grumman and North American Rockwell Corp., manufacturers of the Apollo command module.